For many, conferences can be such a blur between all of the faces, names, and long-drawn out presentations. Fortunately, we found just the right mix for participants of the 3rd annual Higher Education Facilities Forum, held April 3-5th at the Margaritaville Beach Resort in Hollywood, FL.
Offering a speaker mix from Higher Ed and thought leaders from other arenas, HEFF '16 brought together a select group of senior administrators from the nation's leading colleges and universities for three days of engaging conversations and focused networking, with memorable events like a dinner cruise on one of the largest yachts in Florida, a cooking competition and even surfing lessons integrated into the schedule.
"Wonderful—as usual. Influence events have a wonderful mix of content, vendor learning opportunities and peer-to-peer networking." — John D'Angelo, Vice President of Facilities Management, Northwestern University
An International Gathering
Once again, our invite-only gathering attracted over 100 facilities leaders from across the country, even drawing return visitors from Canada and the UK, eager to experience this type of leadership retreat not available in their countries.
Speakers included Arizona State University's Bruce Nevel, UConn's Mike Jednak, Harvard's Andy O'Brien, UC Irvine's Wendell Brase, Patrick Burke from Columbia University and Kim Kiernan from the University of Michigan, as well as thought leaders like researcher and generational expert Kim Lear, former NHL great (and energy expert) Mike Richter, and Matthias Hollwich, principal at the progressive NYC architecture firm HWKN.
"A very enjoyable and interesting event. Coming back for the second time allowed me to build on the relationships that I'd started last year. There are differences between the UK and the US, but we also have very similar challenges." — Paul Goffin, Director of Estates, University of Oxford
Optimized Sessions
Conferences are about making every moment matter. Our attendees noted the brevity of the sessions that were thorough yet concise. We even launched thought-provoking 20-minute-long "Innovation Talks" for speakers to inspire others on topics that ranged from Deep Energy Retrofits to the Science Behind Decision Behaviors. In addition, the forum featured a number of small group discussions held on the rooftop of the resort.
"The sessions were all first-rate, and the hospitality of the HEFF staff was truly exceptional. This conference was among the best I have attended." — Tim Carey, Associate Vice President and Chief Facilities Officer, Ithaca College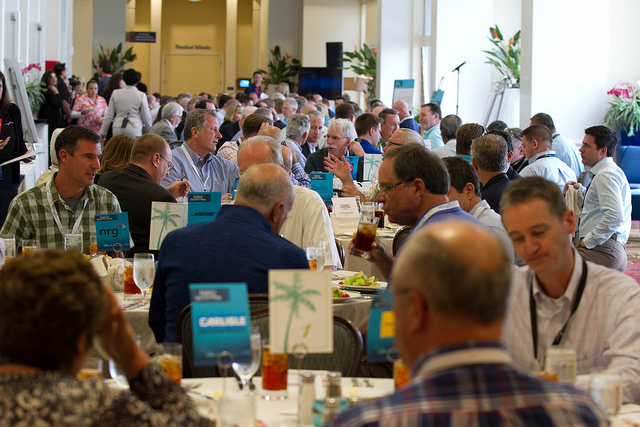 Carefully Curated Vendors
Everyone at influence group is seeking ways to help attendees get the most out of their three days. To that end, April's forum also offered prescheduled, one-on-one meetings between administrators and leading suppliers and service providers, arranged weeks before the forum.
Administrators had the opportunity to have focused conversations with companies like Advent, Bose, Kimberly Clark, NRG, Sightlines and Oracle, whose Sherief Elabd described this year's event as: "Excellent! Right executive-level audience, quality level meetings and fruitful sessions and panel discussions."
The 2017 Higher Ed Facilities Forum will be hosted at the Ranchos Las Palmas Resort & Spa in Palm Springs, CA and we've already begun brainstorming ways to make next year's forum more educational, focused, productive and fun than before.